När jag åter var på lunchgympa idag på första gången på alltför länge, spelade ledaren denna underbara låt av Nickelback,
What are you waiting for
Varje gång jag hör den låten så tänker jag – ja vad väntar jag på egentligen? Särskilt när det är något som ligger i pipen och som jag inte kommit igång med ännu. Ofta är det småsaker som ligger i vägen – och tid.
Tid att reda ut alternativ, tid att fundera på vad jag vill, tid att tänka efter och reflektera. Och tid för att låta det ta den tid det behöver ta. Precis som för grönsakerna i växthuset :).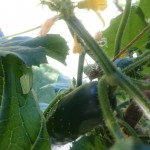 Ibland handlar det förstås också om rädsla – att göra och göra fel. Eller med andra ord – att lyckas och att misslyckas. Men framför allt tror jag att det för många av oss handlar om att vi sällan ger oss tiden att reflektera och känna in vad vi faktiskt vill. För det är där svaren finns, inom oss själva. Livet går lite för fort, ibland är det bara roligt, men ibland är det många måsten och nästan som att vi inte styr våra liv själva. Det som oftast får stryka på foten då är den egna reflektionen och tid. Precis de två saker vi behöver för att kunna göra välgrundade val.
Det här är mitt perspektiv utifrån mina erfarenheter, kanske du har ett annat? Kommentera gärna!
Citat från låttexten: 
Are you waiting for the right excuse?
Are you waiting for a sign to choose
While your waiting it's the time you lose
What are you waiting for wow? (What are you waiting for wow)
Don't you wanna spread your wings and fly?
Don't you wanna really live your life?
Don't you wanna love before you die?
What are you waiting for wow?
….
Everybody's gonna make mistakes
But everybody's got a choice to make
Everybody needs a leap of faith
When are you taking yours?
Read more: Nickelback – What Are You Waiting For Lyrics | MetroLyrics
Vi hörs !
Gunilla Boivie
Psykosyntesterapeut, PsA och familjekonstellatör*
Psykosyntesterapi och familjekonstellationer
Samtalsstudion, Stockholm och Kroksbo i Heby
*Utbildad enligt Bert Hellinger.